PADDOCK AND FIELD ROLLERS - available in 4ft, 5ft, 6ft 6" & 8ft
The paddock and field rollers we supply have been designed and manufacturered in the UK, in conjunction with ourselves.
They are supplied with standard detachable draw bars with ball and pin hitch, three point linkage and scraper bar and the finish quality is extremely high.
All rollers fabricated components are prepared with a non ferrous abrasive prior to pre treatment and a polyester powder coating. This gives excellent 'key' for the next surface treatment to adhere and results in a hard wearing, excellent finish to the roller.
Ball hitch, eye hitch, 3 point linkage and scraper blade as standard.
Features of our paddock and field rollers:
Roller draw bar unbolts and detatches for easy transportation and storage
Both ball hitch and pin hitch supplied
Can be filled with water to gain extra weight if needed
2 drain off plugs at opposing ends allow for easy roller filling and emptying
Can be trailed or worked on 3 point linkage (roller should be empty when lifted)
Nationwide Next Day delivery available
We can be contacted 7 days a week for help and advice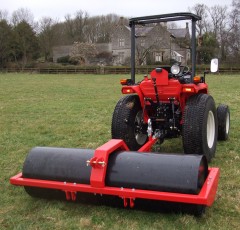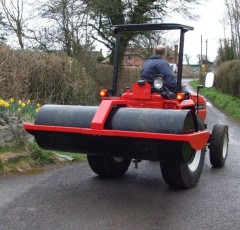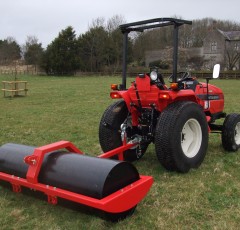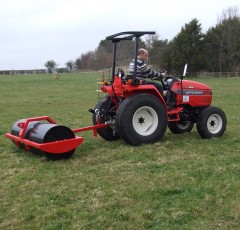 Our paddock rollers can be towed behind ride on lawn mowers, 4x4 vehicles, ATV or compact tractors.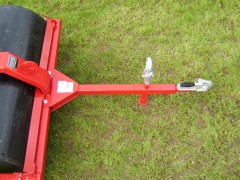 Ball and eye hitch as standard
This paddock roller unit comes standard with 50mm ball hitch and 40mm eye hitch enabling hitch up to any vehicle. The draw bar is detachable by removing two bolts thus enabling easy transportation and storage.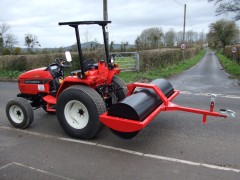 Three point linkage as standard
The roller has three point linkage as standard so it can be easily transported. We strongly recommend that the water ballast rollers are drained for transportation.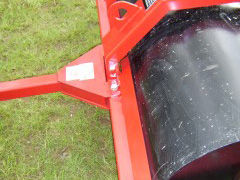 Scraper blade as standard
While other paddock roller manufacturers may charge extra for a scraper blade, ours come as standard, ensuring mud cannot stick to the roller's drum.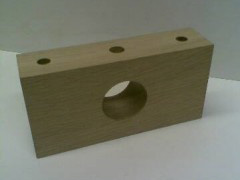 Hardwood Oak Bearings
High quality hardwood bearings carry the paddock roller shaft. These wooden bearings are manufactured from European oak supplied from sustainable sources and include grease nipples to the upper faces for easy lubrication. This results in long lasting bearing units with a higher impact resistance than that of a standard cast pillow block style. The fixing centres have been designed to accommodate both styles of bearing should the need arise.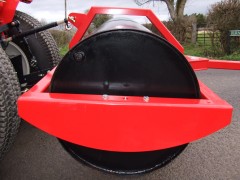 Paddock Roller Drum
The roller drum is fabricated from 6mm thick mild steel plate, has a centre solid shaft of 50mm running the full length of the drum, with water bungs at each end for easy filling and draining. Each individual unit is air tested prior to dispatch. All fabricated components are prepared with non-ferrous abrasive prior to pre-treatment and polyester power coated. This gives an excellent 'key' for the next surface treatment to adhere and results in a hard wearing, excellent finish.
Paddock rollers price list (pdf).
Paddock Rollers - sales, questions and advice
To buy, if you have any questions or need help regarding paddock rollers please call us on 01458 850 084 or if you prefer, please email sales@paddockrollers.co.uk and we will be more than happy to help you.
Fast UK Delivery
We can usually deliver all paddock rollers to mainland UK addresses within 48 hours.